Presenting the Second Annual Walter Ziffer & Gail Rosenthal Lecture
Putin's Imaginary Nazis:
The Weaponization of Historical Memory in Russia's War Against Ukraine
A Talk by Izabella Tabarovsky
Wednesday, April 27, 2022 at 12 pm
Karpen Hall 038
---
One of the most notable features of Putin's war against Ukraine has been his efforts to justify the invasion through distorted historical narratives. While much of the world understands the war as an unprovoked attack on a democratic nation's sovereignty by a despotic leader, Putin has successfully convinced much of the Russian populace that the invasion of Russia's southwestern neighbor is a noble bid to "denazify" Ukraine and to free its people from fascism. The misrepresentation of history that underpins Putin's propaganda has surprised many in the West, but the Russian president's obsession with the history of World War II and the Holocaust has long been a feature of his regime. In this talk, Izabella Tabarovsky will discuss how Putin's weaponization of historical memory of the Holocaust has played into Putin's approach to Ukraine, Israel, and the global Jewish community—and what lessons we must draw from this.
---
Izabella Tabarovsky is a Senior Program Associate at the Kennan Institute (Wilson Center), and a contributing writer at Tablet Magazine. She is a 2022 research fellow at the Institute for the Study of Global Antisemitism & Policy (ISGAP). Her research and writing focus on Soviet antizionism and contemporary left antisemitism, Soviet Jewry, Holocaust in the USSR, Stalin's repressions, and politics of historical memory. In addition to Tablet, her writings have appeared in Sapir, Newsweek, The National Interest, the Forward, Wilson Quarterly, Times of Israel, Fathom, Jewish Telegraphic Agency and others
For more information, contact CJS director Doria Killian at dkillian@unca.edu or (828) 333-7126.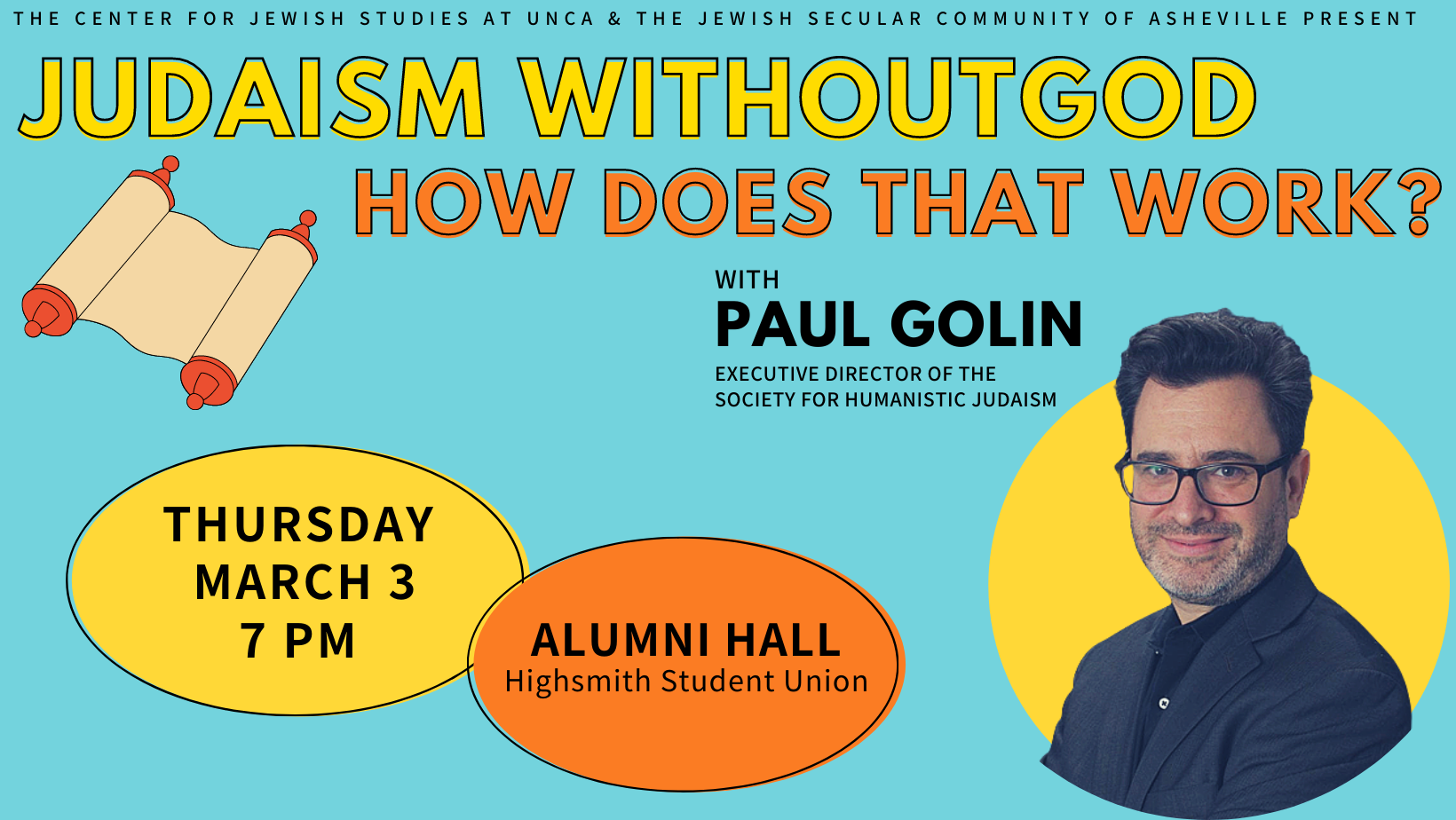 Judaism Without God – How Does That Work?: A Talk with Paul Golin
Thursday, March 3, 2022 at 7 pm
Presented in Partnership with The Jewish Secular Community of Asheville
Only 26% of American Jews believe in "the God of the Bible" according to a 2020 Pew survey. What does Jewish identity mean for the other 74%?
Join us for an open conversation about the diversity of beliefs among American Jews today. How do those who don't hold a traditional understanding of God – or don't believe at all – derive meaning from Jewish traditions and communities? We'll also consider how the Jewish experience might relate to secular people from other faith backgrounds, as a growing number of Americans move away from organized religion.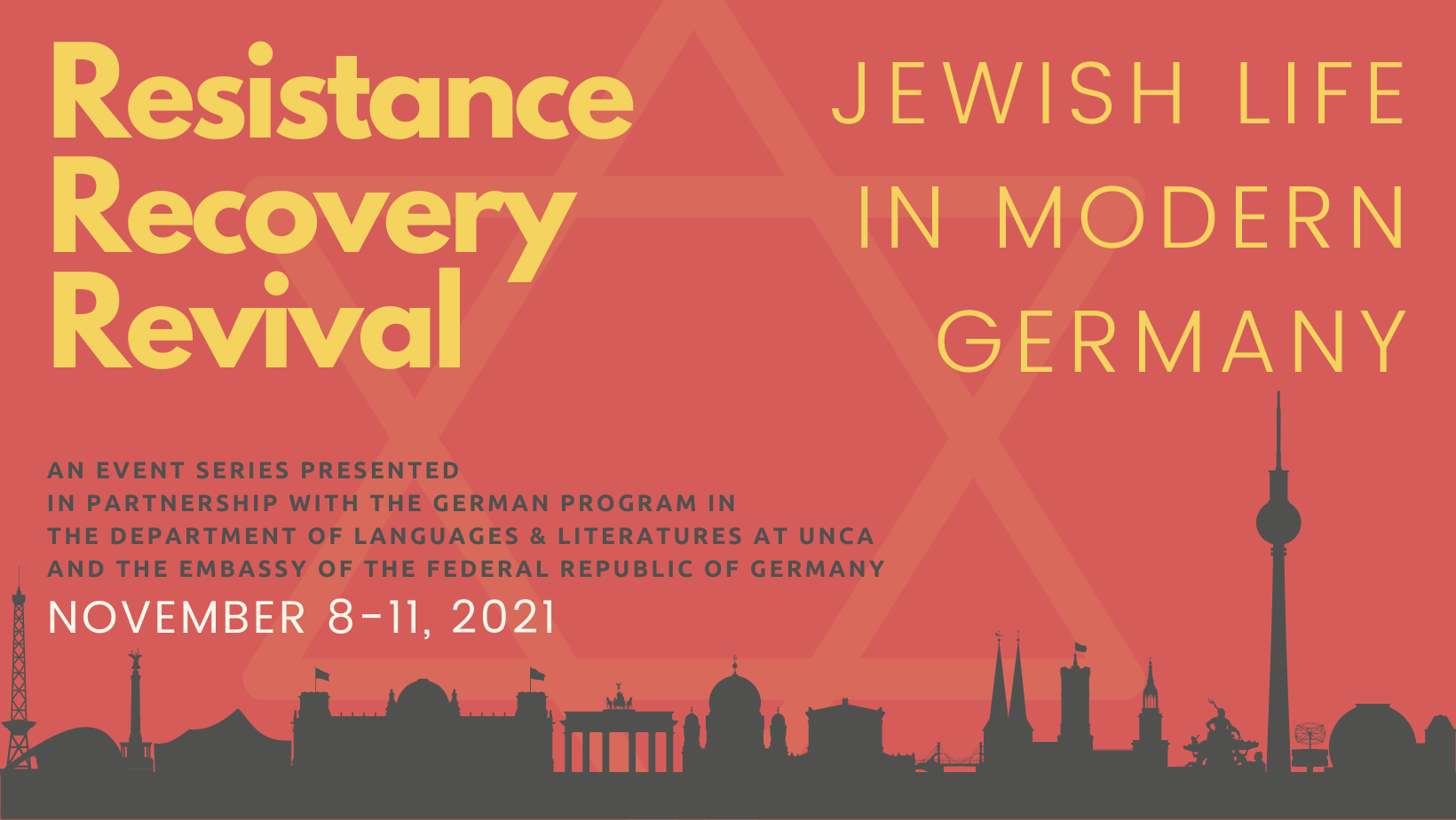 Resistance • Recovery • Revival
Jewish Life in Modern Germany
An Event Series November 8-11, 2021
Presented in Partnership with the German Program in the Department of Languages and Literatures and the German Embassy
Multicultural Memory: Remembering Across Jewish Cultures and Beyond
Panel Discussion
Drs. Alison Rose, Danielle Christmas, and Michael Figueroa discuss the intersections and divergences of memory cultures in Ashkenazi Jews in Europe and the US, Arab Jews in Israel, and Black Americans. The conversation will address the the different historical events and circumstances that shape intergenerational memory among these groups, the role of the Holocaust in multiethnic Jewish discourses, and the potential for engagement across national, generational, racial, and ethnic lines.
Masel Tov Cocktail (2020, 30 min, directed by Arkadij Khaet)
Film Screening and Director Q&A
A free screening of the 2020 short film Masel Tov Cocktail (30 min.) in which a Russian-Jewish teen in Germany offers a fierce comic take on modern Jewish life in a society still not fully at ease with its Jews. Followed by a Q&A discussion with the director.
De-Integration: The Making and Breaking of Jewish Identity in a Post-Migrant Germany
Online Talk
German Jewish writer Max Czollek, author of De-Integrate Yourselves! (2018) and Coming to Terms with the Present (2020) relates the situation of German Jews today—from a major generational shift to the vast Jewish migration from the former Soviet Union to new and developing discourses about identity, discrimination and self-determination.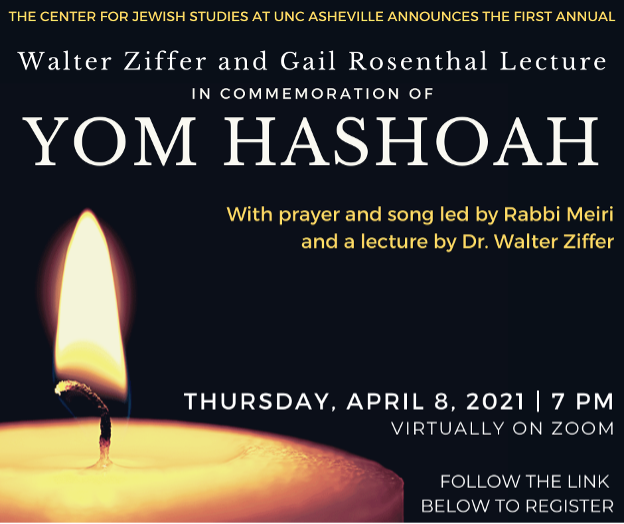 "The Dilemma of Owing One's Life to Evil: A Holocaust-Related Personal Case Study"
A Lecture by Dr. Walter Ziffer
Thursday, April 8, 2021 at 7pm
With prayer and song in commemoration of Yom HaShoah led by Rabbi Meiri of Congregation Beth HaTephila
Dr. Walter Ziffer, theologian and author who was enslaved for three years as a fifteen-year-old boy in seven concentration camps during the Holocaust, will discuss the dilemmas presented by difficult histories, including the Holocaust and American slavery: Can perpetrators of evil, such as slave holders, also exhibit decency and humanity? How are one's ethical dispositions influenced by where and when one is born? How can we use these insights to understand atrocities of the past, confront injustice in the present, and prevent such inhumanity in the future? Drawing on his personal experience and his insight as a Jewish theologian, Ziffer will challenge us to consider the complexity and nuance of the ethical dilemmas involved.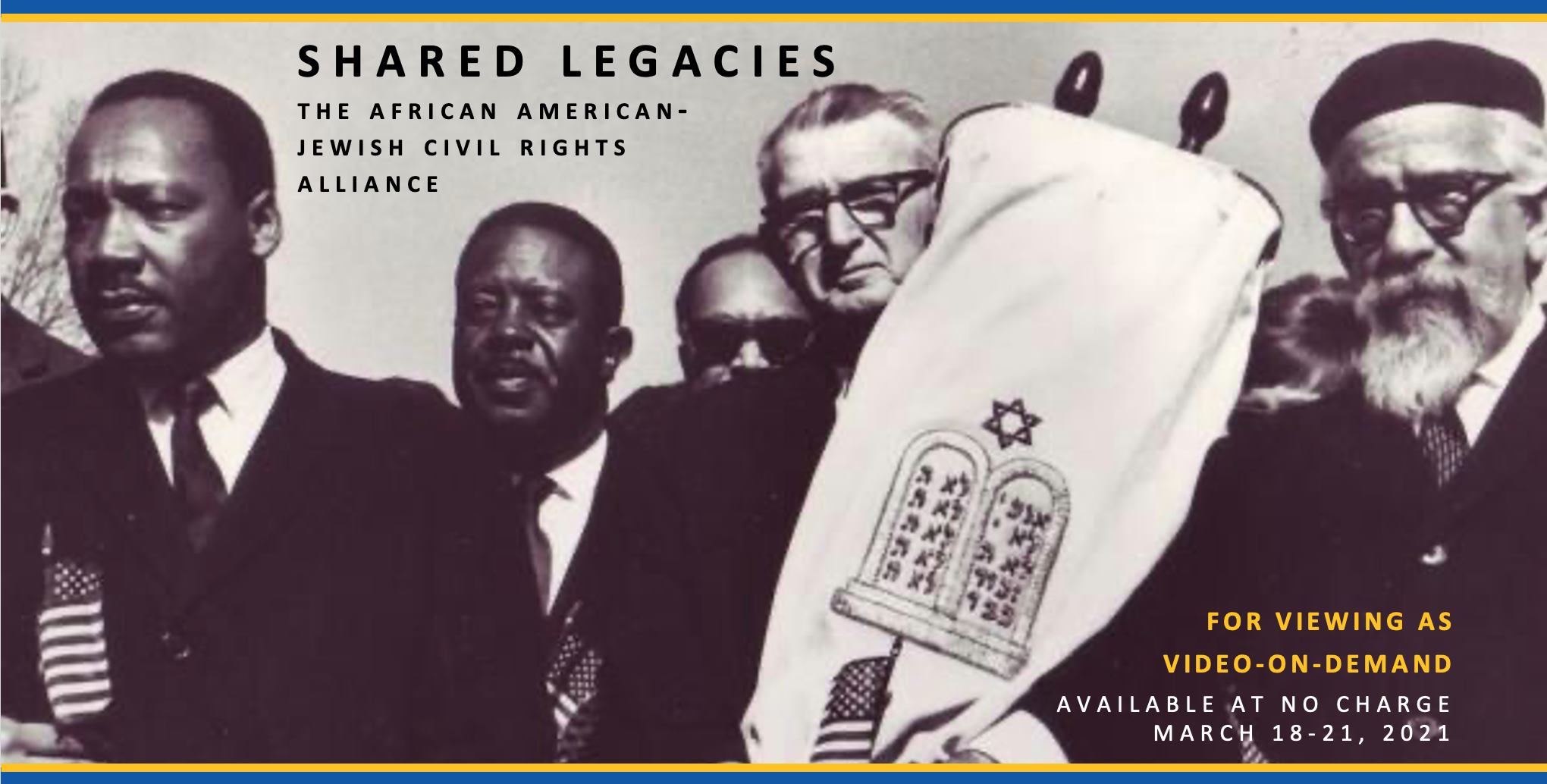 Shared Legacies: The African American-Jewish Civil Rights Alliance
(2020, directed by Dr. Shari Rogers, 97 minutes)
March 18-21, 2021
In Partnership with the Fine Arts Theatre of Asheville
The crucial historical lessons of Black-Jewish cooperation are revisited and revived in this utterly fascinating, urgent call to action. Common cause was found in the turbulent '60s Civil Rights era, as Jewish leaders backed Dr. King's efforts at racial equality and harmony. Pivotal events come alive through a treasure trove of archival materials, narrated by eyewitnesses, activists, Holocaust survivors, and leaders of the movement, including prominent Atlantans such as Congressman John Lewis, Amb. Andrew Young, Rabbi Alvin Sugarman, Rabbi Peter S. Berg, Oscar-winning actor Louis Gossett Jr., members of the King family, and many others.
With divisive seeds of hate taking root anew in the American landscape, a new generation also affirms their pledge to actively promote the values of social justice. This potent, inspiring story of unity, empathy and partnership validates the ubiquity of the human experience, and how freedom and equality for all can be achieved only when people come together.
Into the Abyss: Exploring the American White Supremacist Movement, On and Offline
Monday, February 22, 2021 at 7 pm
Talia Lavin, author of Culture Warlords: My Journey into the Dark Web of White Supremacy, discusses her years spent delving deep into the darkest shafts of America's far-right fringe, both online and off. Join us as she shares her research and insight into the movement's racism and anti-Semitism, its potential for violence, the roots and history of its rhetoric and tactics, and what to expect in the Biden era.